Give your living room update in its décor with personalised neon signs in room. Get yourself a witty quote such as "THE KING." Wake up and approach the neon light sign with an interpretation different from the previous day's. Available in a range of attractive colors, fill your room with the grandeur of our neon lights in room. just custom neon now.
Custom neon light sign for homedecor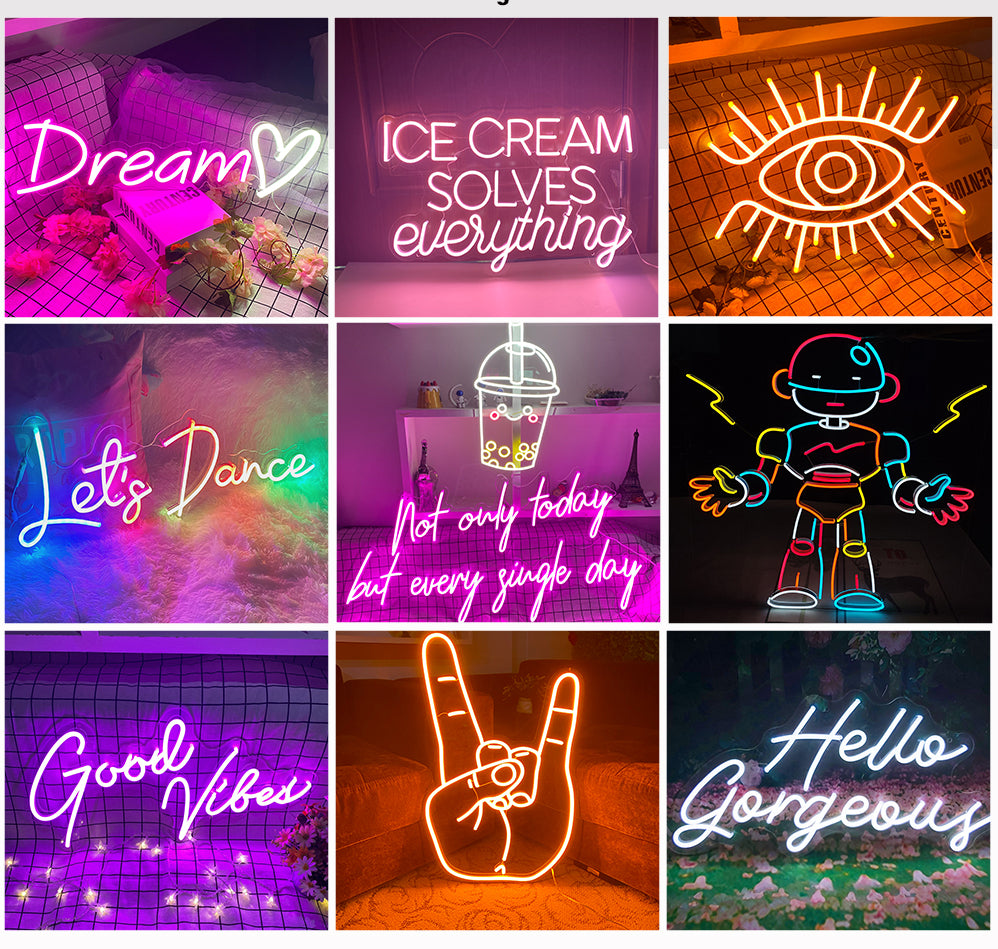 Restaurants, Entertainment Venues
A must-have for your restaurant and entertainment venues is some cool neon signs. Get your hands on a variety of the mod, lush, most captivating neon signs to grab attention… Decorate a wall with a cool, trending neon sign, eye catching enough to make your guests turn their heads…
Neon Lights That Can Be Selected with Multiple Color Options
Find the perfect match to your room's color theme… Available for you are neon signs in multiple colors, whether you are looking for a bright green or a sky blue, the vivid yellow or the eye catching red… stylish purple or serene white, lively orange, pretty pink or classy blue, we have got you covered! Browse through the colors and find the one you have wanted all along!
20"/50cm
29"/75cm
40"/100cm
60"/150cm
79"/200cm
99"/250cm

Videos-Light Options

What is you want different colors for different moods and different themes… don't worry we have got you… check out our top notch multicolor neon lights… 15 plus colors in one sign… choose the calming white or a bright red, vivid green or pretty pink…. All in one sign you get…
Browse through our amazing designs and order the multicolor color light option to get single light with quality of more than fifteen signs… dim the lights or brighten them up…. Flash the color patterns with remote and have fun…
Payment methods:
Your payment information is processed securely. We do not store credit card details nor have access to your credit card information.
Light up your life with our quality LED neon signs! We provide personalised designs, open signs for businesses, wedding signs, home décor neon, kid's room neon, and more. All signs are handmade from environmentally friendly materials and have no smell, whether used at home or in your business. They are completely safe to use both indoors and outdoors, and come with a 24 month warranty. Design your own neon online or upload a logo or image to get a free quote on your custom design.